Chairs are hard not to lust over. They can be sleek, modern, vintage, warm, minimalistic, decadent, delicate, opulent….the list goes on. What they can also be is expensive. The art of the chair is one I continually fall in love with but sometimes a living room needs a pick me up that doesn't require a hefty financial decision.
I scoured for the perfect accent chairs that are under $200 that do not compromise on style and luxury.
Which accent chair is ending up in your living room?
1. Target: Mixville Modern Arm Anywhere Chair, $149.99
This Mid Century Modern inspired chair is the perfect addition to a living room or even office. We are picturing it right next to a gold and glass coffee table and in front of a bookcase. Because who doesn't want to read with a nice glass of wine in that chair?
Did I mention it comes in Taupe or Charcoal?
To fall in love with this chair, click here. 
2. CB2: Alpha Brass Chair, $179
There is nothing like a brass chair with an iron frame. This delicate yet bold accent chair is the perfect pop of decadency your monochromatic decor might need. Pair them up with a shaggy pillow and you got your self a little hangout nook.
Do you have brass fever? Click here. 
3. Wayfair: Newark Rattan Papasan Chair, $160.99
This papasan chair is giving us a fusion of so many other chair vibes: Acapulco, beanbag, rattan. Even though it is built for comfort, it definitely did not compromise on making a statement. Great for a more casual room like the library or play room.
Get comfy with this papasan by clicking here.
4. West Elm, Park Slipper Chair, $199
When a chair goes on sale at West Elm and is priced under $200, you SNAG IT. West Elm has been known to be commercially boutique and their sleek, modern designs are always the apple of my eye. This chair is no exception. Appropriately titled as the Slipper Chair, it looks like you can slide right in, recline slightly, and enjoy a good book. *LE SIGH*
Get comfortable with this chair here. 
5. Houzz: Kingsbury Leather Lounge Accent Chair, $195.20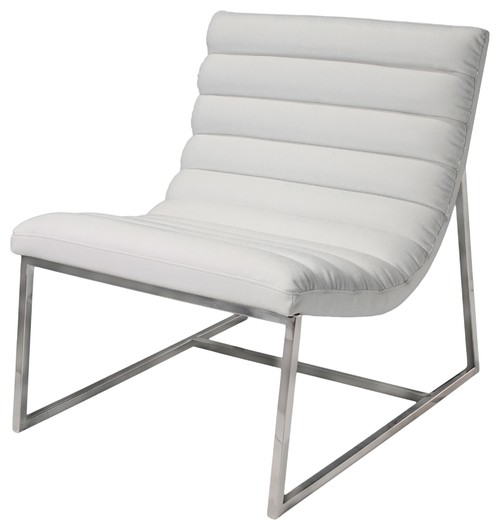 White leather? Reclining in sophistication? This chair is your living room's dream come true. The stainless steal base mixed with the leather detail is the perfect fusion of modernity.
Place this in your living room by clicking here.
Featured Image from CB2.com
---